When the sudden surge in daily COVID-19 cases hit, Malaysia was thrust back into a full-blown movement control order (MCO), prompting another round of extreme measures. As a result, the prolonged pandemic, or endemic as we now know it, has had a substantial impact on us both economically and emotionally. Going in and out of the lockdown is causing nations, including Malaysia, to experience critical pandemic fatigue. You might be wondering, "What are its long term effects on our community's mental health?"
Understanding the pandemic fatigue
Pandemic fatigue refers to the lack of motivation to follow recommendations by authorities to protect oneself and others from the virus.
A recent nationwide study by Universiti Kebangsaan Malaysia found that 62.5% of respondents experienced pandemic fatigue during this one-and-a-half-year-long lockdown. We look into the causes and long-term effects of pandemic fatigue. 
What are the causes?
Several factors contribute to pandemic fatigue in our community. Besides having to juggle work-family imbalance, job insecurity and emotional distress, our citizens are worn out from trying to keep up with the various MCO abbreviations. Not to mention the ever-changing standard operating procedures (SOPs) that restrict movement and limit interaction on a daily basis. This leads to complacency in complying with the SOPs.
Other major sources of pandemic fatigue are longer work-from-home (WFH) hours, misinformation in the media, reduced family time and extended periods of separation.
What are the long-term effects?
The major shifts in the MCO result in long-term personal, social and economic consequences in our society. Feelings of anxiety quickly turn into a perceived loss of control as many may struggle to envision the future while being at home all day. As a result, the symptoms of pandemic fatigue are:
Irritability

Physical exhaustion

Emotional disturbances

Poorer work performance

Sleep loss
If left unchecked, this could lead to far more significant problems in the long-term such as burnout and sleep disorders. It could also lead to severe mental health issues like anxiety-related disorders, depression and chronic fatigue syndrome.
Caring for yourself & your community
As we learn to live with the virus for the long haul, it is imperative that we work hand-in-hand with our frontliners and authorities by exercising self-responsibility and adapting to our 'newer' normal. Although this may be easier said than done, the little steps we take go a long way. One way you can do this is by prioritising care for yourself and your community. 
The body is connected to the mind and spirit. Thus, maintaining your overall health and wellness involves a holistic integration of your physical, mental, and spiritual well-being. In this article, we have put together 20 practical and realistic steps to take amid the pandemic for your well-being and those around you.
Being Kind to Your Body
1. Keep physically fit
Exercise is more than losing weight. Exercise strengthens your heart, combats chronic conditions and improves memory. You don't need a gym membership or expensive equipment to keep yourself physically fit. All you need is an exercise mat, some music and a video tutorial for a good workout. The best thing about home workouts is you get to do it at your own pace and fitness level.
For added fun, make this a family routine. Gather your family members at home and exercise once or twice a week. If you live alone, there are tons of workout classes you can find online for free. 
2. Eat well
Food is our fuel. A healthy diet can help reduce the risk of physical health problems such as premature heart disease and stroke. Give your body the nutrition it deserves by eating well-balanced meals and monitoring your calorie intake, especially if you have health complications like diabetes.
Incorporate good foods like fruits and vegetables that are rich in vitamins and minerals to build your immune system. Experts say they should make up half your plate at each meal. The other half is split evenly between carbs and protein. Here's a useful tip: Snack on bananas instead of chips.
3. Stay hydrated
Water is the staff of life. Staying hydrated allows your body to regulate its temperature, keep your joints lubricated, and help your organs function properly. It also protects against dehydration and can help people with their fight against COVID-19.
Water is the main source of fluid for the body, but did you know that there are other ways to stay hydrated? Some good alternative sources are foods that contain a high percentage of water like grapefruit, tomatoes, cucumbers, yoghurt and coconut water.
4. Get some sleep
Good sleep hygiene is a vital component of your overall health and well-being. Cutting down on sleep may be tempting in a WFH setting, but the long-term effects may be detrimental to your overall health. Start by prioritising sleep in your schedule.
Wind down by putting away any distractions like your mobile phone or laptop at least half an hour before going to bed. It also helps to stick to the same bedtime every day. Experts recommend 7-9 hours of healthy sleep for adults (26-64 years old) and 7-8 hours for older adults (over 65 years old).
5. Do something therapeutic
Take your mind off your worries by taking a day off to do something that relaxes you. Therapeutic activities are great for stress management. It calms your nerves and allows your mind and body to enter a relaxed state which in turn slows down your breathing, lowers muscle tension and increases blood flow throughout the body.
Other benefits include a boost in confidence and self-awareness. Explore your creative outlets with art or music therapy. Consider enrolling in a crafts workshop or music lessons. You might even discover a hidden talent in the process.
Being Kind to Your Mind
6. Keep mentally fit
Keeping your mind fit is just as important as keeping your body fit. Mental exercises can help to keep your brain healthy and your mind sharp. They can also protect against the effects of brain ageing and improve certain cognitive functions such as memory, reasoning, problem solving and information processing speed. Some activities to include in your routine are:
Solving a jigsaw or crossword puzzle

Playing a game of chess or checkers

Learning a new language or new skill 

Building your vocabulary

Practising mental mathematics
7. Rediscover your routine
Find your rhythm again. At this juncture, we may not be able to return to normal but we can return to health. One way to bounce back with resilience is by re-constructing your daily routines to adapt to this 'newer' normal. Routines help you figure out what's important to you and maintain the discipline to develop good habits and get rid of poor ones.
First, identify your priorities and set goals. Next, create a daily, weekly or monthly chart and organise it by time blocks and colour codes. After that, find your flow and stick to it.  Try Canva , On:Planner or Pinterest ready-made or customisable templates that will help you structure your schedule better.
8. Digital detox
Challenge yourself to a digital detox to take a much-needed break from the screen. Reading negative news can induce unwanted stress and frustration. Digital detoxing allows you to take back control over the content you're consuming in the digital space.
You can choose to unplug over the weekend or even on weekday nights. Start small and build as you go to maintain your good habit. You can also incorporate the 20-20-20 rule in your routine to prevent digital eye strain.
9. Establish personal boundaries
Establishing personal boundaries means setting your expectations and communicating your needs for personal space and privacy in any relationship — whether with coworkers, family or friends. Boundaries are beneficial for identifying yourself and others better. This could take many forms such as knowing your life's priorities, learning to say no, silencing notifications, and keeping few close relationships.
10. Start a journal
Keeping a journal helps you keep yourself in check in a world full of change. A journal acts as a stress management and self-exploration tool. It helps in managing stress, anxiety, and mental health conditions. Penning down your experiences allows you to process your thoughts and feelings, and place focus on areas of your life you may have neglected.
There are many different styles of journaling: bullet journaling, gratitude journaling, art journaling, and so on. Find your own style to suit your needs. You can use the good old-fashioned pen-and-paper or download some nifty apps on your phone to start, such as Daylio and Reflectly.
Being Kind to Your Spirit
11. Make time for yourself
One way to be kind to yourself is by having some "me time" each day. Working adults especially, often look for an excuse not to dedicate time for their personal lives. A wise person once said, "You don't find time, you make time." Carve out time to treat yourself. Maybe you've been eyeing a watch or some shoes which you've been saving up for weeks. Gift it to yourself. If you have had a long day, have an at-home spa night and pamper yourself.
12. Practise meditation 
Meditation reduces stress and anxiety and promotes focus and relaxation. Mornings are typically the preferred time to meditate because you are free from distractions; however, night-time meditation is just as necessary. Your body may be ready for bed, but your brain might be still buzzing.
Quiet down your active mind with meditation to prevent or reduce insomnia. Begin with 10-15 minutes of meditation. There are a variety of techniques to discover such as focused attention, body scan and visualisation to redirect your thoughts. For some, meditation can also mean prayer. 
13. Ground yourself in the present
Find moments in the day to ground yourself in the present by practising mindfulness. Focus on what you have in front of you and connect with your senses with the 5-4-3-2-1 Coping Technique:
Look around you and name 5 colours you see

Hold still and name 4 things you feel or touch

Listen to your surroundings and name 3 sounds you hear

Take a sniff and name 2 things you smell 

Swallow and name 1 thing you taste
This exercise is also known as a grounding technique to help alleviate feelings of anxiety or stress and is a great practice for your mental health.
14. Practise forgiveness
It's not easy moving on from past hurts. It could be something someone did to you 5 years ago or something someone said to you 5 minutes ago. No matter the length of time, harbouring resentment and bottling up feelings can place a heavy burden on one's heart and mind. If we're not careful, this can lead to physical and mental consequences in the long run. Choose forgiveness when you feel ready and learn to let go. Forgiveness is for yourself and no one else.
15. Reach out if you need
Last but not least, if you're going through a tough time, reach out to a trusted family or friend. You might say, "I've been struggling with something for a while now and I want to talk about it with someone I trust. Can I call you?" Perhaps you're struggling with your mental health. It is never too soon or too late to seek professional help. Here's a list of mental health hotlines for help and emotional support in Malaysia:
Being Kind to Others
Make each day count with those you love. Gain back momentum in your relationships by carving out time each day to intentionally connect with your family and friends.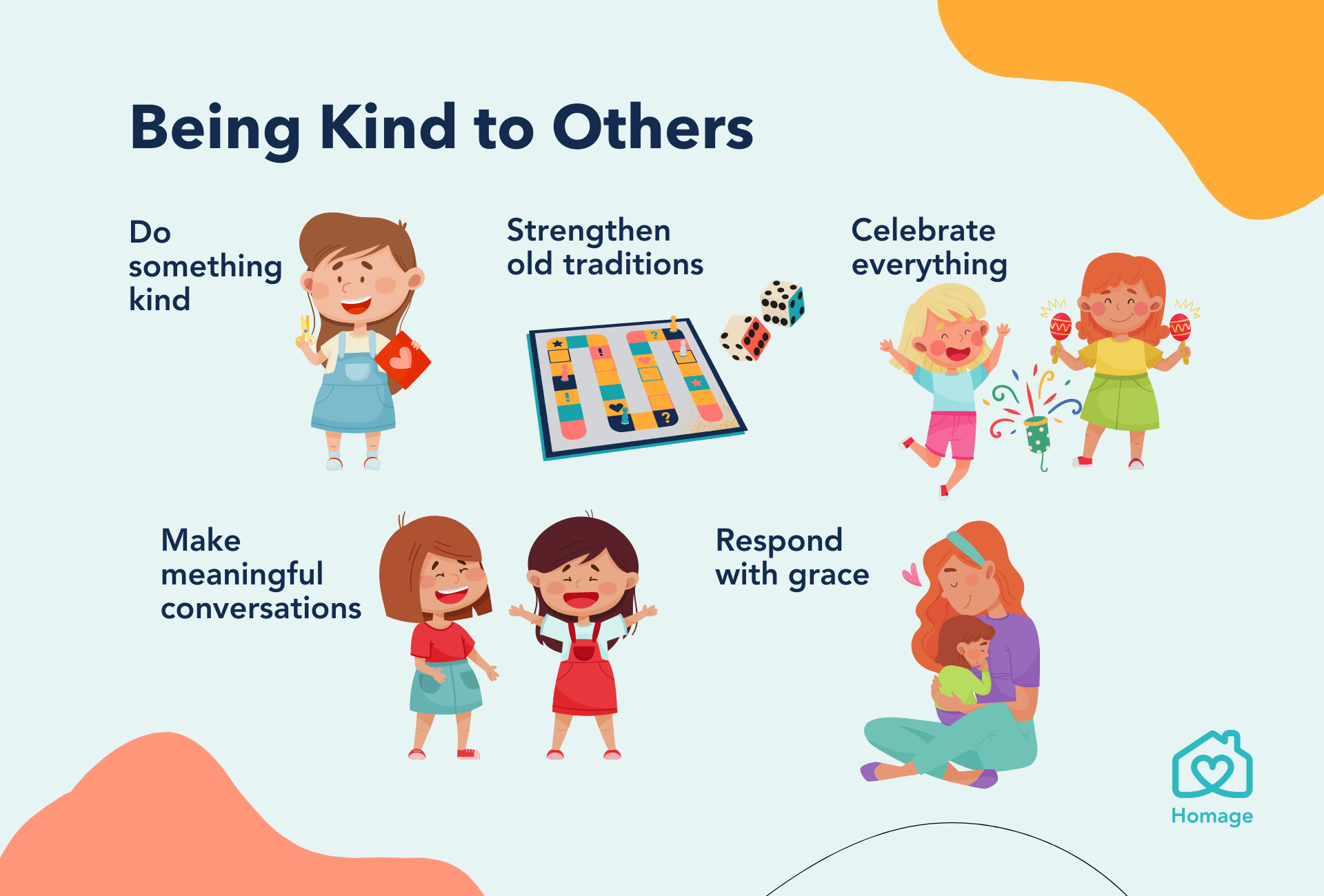 16. Do something kind for someone
Tell someone you care about them without telling them you care about them. You can spend quality time with your spouse over a candlelit dinner, give your children hugs, or help a friend with their garden. Gary Chapman's 5 Love Languages® are a fun and meaningful way you can discover how your loved ones would like to receive love so you can love them better. As human relationships are reciprocal in nature, share your love languages and learn to speak in each other's love language.
17. Strengthen old traditions
Family traditions play an important part in building a strong family identity. They are a unique way to bond over shared experiences that last a lifetime. Perhaps you have a family tradition that has been passed down from generation to generation. These can be tied to a holiday ritual like Christmas, Ramadhan or Deepavali, but it doesn't have to be. The most important thing is to make it your own thing so that the tradition holds a special place in your family.
18. Find reasons to celebrate everything
Things are better when we are together. It could be a weekly family game night or a monthly barbecue get-together. If your family lives apart, you can re-invent new ways to strengthen your traditions by going digital. For instance, you can schedule a virtual meeting with your loved ones and discover games you can play online together. Some examples of family-friendly online games are Draw Battle, Gather Town and Heads Up.
19. Make meaningful conversations
Conversations are more than just sharing information. They are a wonderful way to open up your worlds and form genuine relationships with others. Begin with making a list of connections and schedule a time to call. Your list might include your family, your closest friends, your coworkers, someone from the past or someone you just met. 
Perhaps you're running out of things to say or your conversations are falling flat. Instead of asking a variation of how-are-you questions, here are 5 helpful conversation starters to keep your conversations meaningful and flowing with anyone:
Who was your best friend in primary school?

If we could teleport to anywhere in the world, where would you go?

What's the best and hardest thing about being your age?

What would you do if you had an extra hour every day?

If you could give a 30-minute presentation on something without any preparation, what would it be about?
Conversations work both ways. Both sides learn to build trust, resolve conflict and provide social support. 
20. Respond with grace
Sometimes, conversations can segue into difficult ones like that of the COVID-19 situation or the loss of a loved one. Whether this is a conversation with a friend, your child or a senior loved one, it is important to always respond with grace. Talking is the first step in understanding what's troubling their minds.
First, speak clearly by using simple terminology and avoiding jargon. Offer words of encouragement and show empathy. You might say, "I understand how this might worry you. Do you want to talk about it?" or "Let me know if there is any way I can help." However, try not to make assumptions or jump to solutions if you aren't a trained counsellor or mental health professional. 
Second, assure them that they are in a safe space. In some cases, they may not be seeking advice at all; All they need is a listening ear. Allow them to have the opportunity to express themselves and talk about their emotions at their own pace. You don't have to agree with what they are saying, but show them that you understand and respect their feelings.
If you are speaking with children, understand that they may not be able to express themselves through words very well. Instead, they may cry or express anger. You could share or model how you cope with stress or grief. Try saying, "When [loved one's name] contracted COVID-19, I felt anxious and sad. Talking to my [sibling/parent/friend] made me feel a lot better."
Taking care of you, taking care of Malaysia
Looking for care support for a loved one? Homage offers holistic care options including personal care, nursing services, or rehabilitation therapy, starting from one hour to round-the-clock care 24/7. For more information on how Homage can help with your care needs, fill up this form and our Care Advisors will reach out to you within 24-hours!
Like this article? Subscribe to us to get a weekly digest of the latest Homage happenings, caregiving tips and health guides.