What is Palliative Care?
Palliative care, sometimes known as supportive care, is a medical discipline that aims to improve the quality of life if you or your loved one are diagnosed with life-limiting diseases, such as cancer or cardiovascular diseases. It's a multidisciplinary approach that seeks to manage symptoms that arise, provide constant support from medical experts and even family members and friends, and enhance their overall care not just for you but also for the ones closest to you.
Contrary to what most people think, palliative care is not only for those who are nearing the end of their lives. It is meant to help you or your loved one with getting the proper support and care needed to improve your overall quality of life and reduce whatever discomforts you might go through. This can have many significant benefits to your wellbeing, including prolonging your lifespan and ensuring you are not in constant pain.
You can receive palliative care from anywhere, regardless of age, be it in the hospital or even from your own home, with the aid of medical professionals. The medical team will ensure that you get the best treatment to help you live well, even if you or your loved one are approaching the end-of-life stage. This isn't just limited to medical diagnostics and treatments, but also in bereavement counselling and more.
Differences between Hospice Care and End-of-Life Care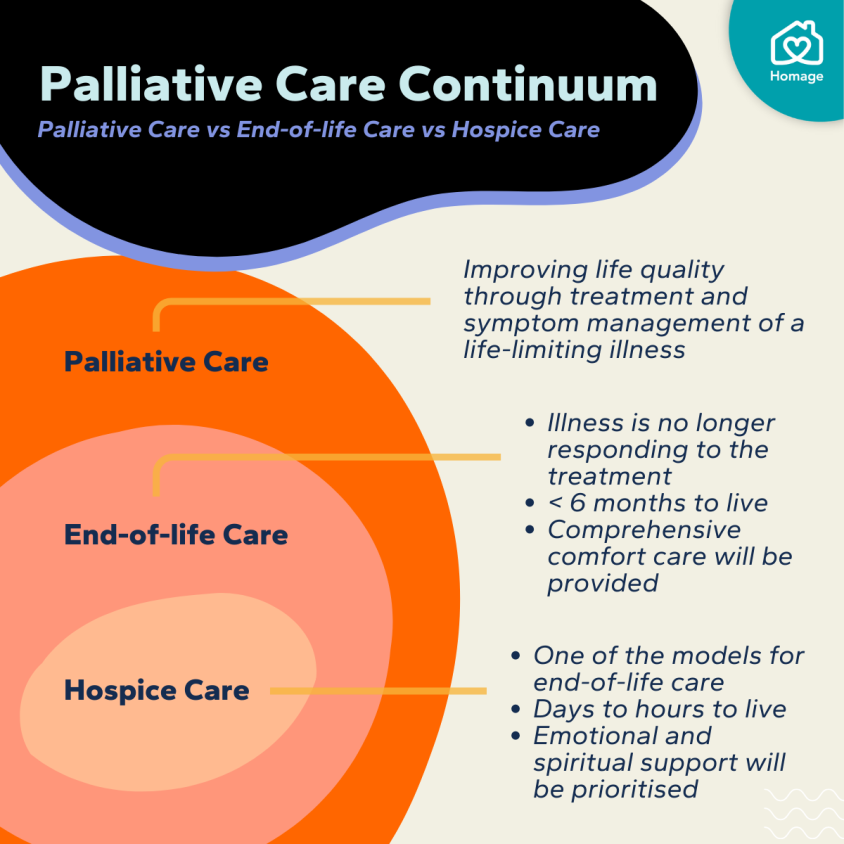 In reality, palliative care actually encompasses both hospice and end-of-life care. Hospice care is recommended when you or your loved one's illness is no longer responding to treatment and doctors determine you or your loved one have less than six months to live, such as in cases of advanced cancer. Treatment will no longer continue and the medical team will instead focus on providing you or your loved one with "comprehensive comfort care" and support for as long as it's needed.
End-of-life care has a significant overlap with hospice care; in some medical institutions, they may refer to end-of-life care as hospice care or vice versa. Generally, end-of-life care is given when you or your loved one reach a stage where the terminal illness can no longer be slowed or treated effectively. As such, the medical team will ensure that symptoms are managed, along with emotional and spiritual support from family members, friends, and members of the medical team.
Palliative Care Journey
Palliative care is a holistic care approach that requires a multidisciplinary medical team to help you or your loved one with your overall care. You'll be assisted by various professionals to help with your physical, mental, and even emotional needs every step of the way. At first glance 
Detailed Consultations
The doctors will provide you and your loved ones with a thorough explanation of what palliative care will involve, including everything you'll need to know about the process depending on you or your loved one's condition. A detailed palliative care plan will be drafted to give you an idea of how you'll be treated, the how of your treatment, as well as everything else in between.
No two care plans are the same, given the differences in symptoms and other factors. In addition, the care plan works in conjunction with any other treatment plans that aim to cure your existing condition(s).
Awareness & Support
While it might seem like any regular medical treatment plan at first glance, the overarching goal of palliative care is to give you comfort every step of the way. This includes having the assistance of an expert who can advise you on coping with grief, to simple techniques to help manage pain or other symptoms, to the impact certain treatments may have on you or your loved one.
Symptom Relief/Management
Once the medical team has everything they need, they'll begin taking steps to help address symptoms. If you are receiving treatments for your condition, you'll still continue to receive them in tandem with your palliative care, unless the treatment needs to be paused or stopped for various reasons. 
On the subject of symptom relief, especially where pain management is concerned, pain medication such as morphine is only given to those who absolutely need it and at the dosage that it's needed to be effective. In the words of Dr. Richard Lim Boon Leong, the head of Selayang Hospital's Palliative Care Unit, "Morphine, when administered by those who know what they are doing, does not cause addiction and it certainly does not shorten lives."
Holistic Treatment
As it is focused on improving your quality of life, palliative care isn't solely about administering medical care to help with managing symptoms. The family and patient's input are needed to ensure that the treatment you deserve is properly provided and fine-tuned where needed. All of these elements combined can lead to improved quality of life, including less severe symptoms and better comfort.
Advanced Care Planning
It includes early advanced care planning to prepare you and your loved ones for any unexpected eventualities, especially concerning end-of-life care. Studies have found that advanced care planning is very helpful in ensuring that a person receives satisfactory care in accordance with their wishes.
What to Look Out For 
Various hospitals offer a host of similar and different services in palliative care. It's important that you find out the details of the services provided so that you or your loved one can receive the care that's needed for their benefit. Here are some considerations to look out for.
Services Available
Here's a quick summary of palliative care services you'll generally receive. Some healthcare facilities or institutions may not have some services available and will offer alternatives instead. It's important to know ahead of time what they do and don't have.
Pain management and relief

Physiotherapy for managing symptoms, if applicable

Family counselling to help with coping with you or your loved one's condition

Spiritual support from a chaplain or a religious advisor of your faith

Advanced care planning for the end-of-life stage

Financial and legal support, where applicable
The more you can learn about the palliative care process at the hospital you're in, the more informed you'll be as to how you'll be assisted throughout the palliative care process.
Here are some questions you can ask:
Will my care involve a multidisciplinary team?

Is it limited to in-patient or out-patient care?

Are there supplementary care services available?

What kind of support is offered to help guide me and my loved ones through the process?

Are there techniques that I will learn to help with the palliative care process?

What other kinds of services are available and do they cost extra?

Does my care include advanced care planning if circumstances were to change suddenly?

Are there community palliative care services available as well?

Is there a 24/7 on-call service to attend to emergencies of patients?
Quality of Care
The level of care you or your loved one receive is going to be very important. With improper care, you won't be able to have the means to adequately manage your symptoms or the many obstacles you'll have to go through. Improper care ultimately leads to poorer health outcomes and could potentially risk early mortality if not addressed immediately. Improper care can stem from a misunderstanding of your needs, negligence on part of the care team, or even unexpected emergencies that might arise.
When discussing with the care team, it might be helpful to ask them questions pertaining to the care you or your loved one will receive:
Who will be monitoring my level of care?

How often will care sessions/services be administered?

How often will I be updated on my care?

In case of an emergency, what are the general procedures to keep it in control?

Will I receive any additional care services if things change?
A lot of it also boils down to the treatment you or your loved one receives to treat the medical condition. The palliative care will ensure that they relay your requests to the other treatment team in ensuring that your needs are met and care is consistent with your wishes.
Location
It's more convenient if you can receive palliative care from the comforts of your home, but you might still need to be warded for some time so you can be assessed on your condition and a care plan is drafted to suit your needs. There can be differences in how your overall care is approached.
If you're receiving palliative care at a hospital or care facility:
Is there an inpatient unit available in case of emergencies?

Where will I be warded and how may that affect my level of care?

Will I have my privacy safeguarded while warded?

How often will I need to be moved for different consultations, if applicable?
If you're receiving it from the comforts of your own home:
Are there options for respite or general inpatient/outpatient care if it's needed?

Is there a support network that can assist me if an emergency arises?

How quickly can an ambulance arrive in case of an emergency?

How will treatment be provided, and do I need to visit the hospital/care facility often?
Price
When you're doing your research on where to receive care, price is a major factor that can greatly influence your decision. This is even more apparent if you don't have medical insurance to help shoulder some of the cost.
How will I manage the financial aspect of all the needed treatments?

Can I get financial assistance to cover the costs?

Does my palliative care offer financial support in some way, such as financial planning?

How do I cope with the stress of affording treatment?
Getting care at home can help with reducing the costs of having to be warded for the duration of treatment. You'll need to discuss with the medical team the provisions for home-based care and what you can do to give yourself or your loved one the best amount of care that is needed without putting a heavy burden on your finances. As part of this, you may be taught various techniques to help facilitate palliative care for yourself or your loved one.
Reputation/Legitimacy
It's important to know about the credibility of a particular care institute/organisation that you're considering. You can find out more about it by reading Google reviews, testimonials, researching the company site, or even visiting the place in person to get to know what it's like there. You may also be able to learn about their medical license and accreditations from the government and other medical regulatory bodies.
Care and Safety Policies
Any healthcare facility/institution has its own set of policies governing your safety while receiving care from its medical staff. It ensures that you are treated with dignity and respect throughout your stay and with attention and personalised care from the professional staff attending to you. Failure to meet these quality standards can lead to a significant impact on the reputation of the facility/institution, notwithstanding the long-term impacts it can have on your wellbeing.
 You can post this question to the organisation to understand their policies:
What is the company's policy in assuring the rights of patients is being acknowledged and taken care of?
Practical Needs
Depending on your condition, you may need some assistance from the medical team when doing certain things. If you're unable to move parts of your body normally, or have limited mobility, the medical team will need to assist you with getting items or moving from the bed to the washroom. This includes the provision of medical equipment or tools to facilitate these activities, such as a wheelchair. These also extend to home-based care when you request it.
If you're caregiving on your own, it can prove to be quite a challenge to juggle all your commitments while caring for someone with a life-limiting disease. In times like this, your care team can help you seek help and solace from their support teams and grassroots communities. These afford you an emotional outlet for support when you need it the most.
Receive Home Palliative Care Support with Homage
During the process of receiving palliative care, maintaining a balance between your personal life and caregiving duties for someone with life-threatening illnesses could put tremendous weight on your shoulders. It is good news that external care support is available so that you can recharge and take a breather.
At Homage, our Care Professionals are able to step in to provide nursing and ADL services like tube feeding, bed bath, transferring, and continence anywhere within our operating cities in Klang Valley, Penang, Perak, and Johor. We are able to assist with personalised plan that suits your loved one's needs, ensuring they can live their days in peace, comfort, and dignity.
Download our app now to find out more and start booking quality care for your loved one.