We're looking for exceptional Care Pros
Create a world where our loved ones are well-taken care of.
Join us to deliver dedicated home care, nursing care and therapy to more in the community.
Join Us Now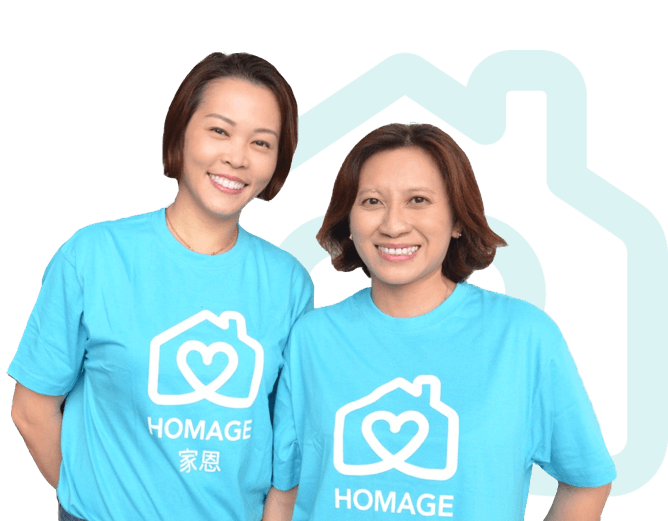 Why join us as a Homage Care Pro?
Attractive Earnings
Earn competitive rates across our freelance and fixed positions
Insurance Coverage
All Care Pros have insurance coverage and professional indemnity during care visits. Enjoy a peace of mind while you deliver care.
Professional Training
Upgrade your skills with holistic and specialised training and certifications from our training partners and in-house specialists
Impact and Meaning
Build a meaningful career and touch the lives of others as you deliver care with us.
Career Progression and Opportunities
Gain opportunities to work with us regularly and tier up in your career pathway as a Care Pro.
Beyond Just Homes
Gain exposure through providing care in a variety of settings, from homes to daycare centres and wards.
Careers at Homage
Homage Caregiver
Passionate to deliver care to families in our community? Support individuals with activities of daily living such as companionship, showering, meal preparation and medication reminder at their homes and help to improve their quality of life.
Homage Nurse
Are you an enrolled or registered nurse looking for a more flexible work schedule with better work-life balance? Take control of your schedule and have more quality one-to-one time with your patients as you perform nursing procedures at their homes.
Homage Therapist
Are you a qualified therapist looking to make a difference in the lives of seniors and adults? Support families with their recovery and rehabilitation efforts through physio-, speech or occupational therapy and help them regain independence at home.
Our Care Pros
Emily
Professional Caregiver
"I am glad that I made myself available to make a difference in others' lives! Thank you Homage for providing me with a unique platform to fulfil what I love to do, practise my skills and continue learning more!"
Nadia
Professional Caregiver
"It makes me happy knowing I can make people's lives a little less burdensome by taking care of their loved ones as well as build a better character for myself – to be more selfless, patient and tolerant."
Pavithra
Registered Nurse
"I appreciate the high-trust relationship Homage has established with Care Professionals when caring for the elderly."
Firdaus
Professional Caregiver
"In my experience as a caregiver, I've learnt the value of empathy as seniors would want someone to understand their feelings and listen to them."
Join us as a Homage Care Pro today!
Deliver dedicated home care, nursing care and therapy to more in the community.
Become a Care Pro