Colon Cancer: A Lifestyle Disease?
Our lifestyle today is quite demanding, with us leading a busy life, endless workload, and no time to exercise. Feeling stressed out and overwhelmed by them all, we are then inclined to eat more processed and junk food and develop poor eating habits. In time, the weight starts to creep in, resulting in other illnesses and diseases too.
One of these life-threatening illnesses is colon cancer.
What is Colon or Colorectal Cancer?
Colon or Colorectal Cancer usually starts as benign lumps called polyps which are formed on
the inner wall of the colon and rectum (in your large intestine). Some types of polyps may develop into being cancerous and they need to be removed once detected.
Colon or colorectal cancer is the most common cancer in Malaysian men and the second most common cancer in Malaysian women. In 2019, it was reported that 16.4% of men and 10.7% of women population in Malaysia suffer from Colon Cancer.
These numbers are expected to increase over time, and that indeed is alarming. 
Those at Risk Of Getting Colon Cancer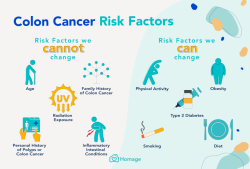 People with Chronic Diabetes – 

Updated studies in 2021

have estimated that diabetics have a 38% higher risk of developing colon cancer than people who are non-diabetics.  

Being Overweight / Obese –

People who are obese and overweight are at a much higher risk of getting colon cancer than those who maintain a healthy weight. Obesity also leads to other health problems, like heart disease and stroke.  

Family History –

Like other types of cancer, colon cancer is hereditary (it can be passed onto the next generations). If someone in your family has it, chances are you have a much higher risk of getting it too.

Poor Eating Habits –

Those who don't watch their diet by eating a lot of processed food and sugary items, and eating fewer vegetables and fruits are prone to develop colon cancer.

Inactive Lifestyle –

People who don't exercise or do any physical activities to stay fit

and keep their weight in check are much more vulnerable to get colon cancer.  
Signs for Colon Cancer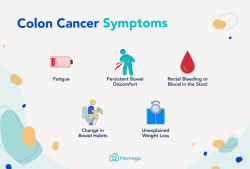 Persistent Cramps

, Discomfort and Pains Around the Stomach Area

Changes in Stool Frequency, including Diarrhoea and Constipation

Traces of Blood in Stool

Nausea or Vomiting

Unexplained Weight Loss
For precautions, always remember to consult your doctor immediately if you constantly experience any of the symptoms above. Your health practitioner will conduct several screening tests, which include a colonoscopy, CT or CAT scan, tumour markers or biopsy to figure out your risk level.
A cancer diagnosis can be unnerving and your loved one has care needs that are unique. Engaging a caregiver for your loved one not only encourages better recovery; it also helps build strong emotional support for your loved one.
To give your loved one the best care he/she deserves, we provide a free care consultation for you and your loved one, to ensure that they get a Care Professional that best suits their needs.
Types of Food to Prevent Colon Cancer
Although there's no 'one miracle food' for colon cancer prevention, you can make better choices for your food intake. The decisions that you take now can be extremely beneficial for your health.
White Meat (Fish, Chicken)
High protein fish like salmon, tuna and mackerel are filled with nutrients like Vitamin D and omega-3 fatty acids. Try to include a few servings of fish in your weekly meals, and they can prevent and lower the risk of colon cancer.
Green, Leafy Vegetables (Spinach, Kale)
Vegetables like cabbage, kale and spinach are filled with fibre, vitamins and minerals that act as your body's own antioxidant defences. These greens help stop free radicals from damaging your DNA, which can lead to cancer.
Orange-based Fruits and Vegetables (Oranges, Grapefruits, Carrots)
These orange family plants contribute to excellent dietary fibre intake and are packed with Vitamin C to help in easing constipation and stomach problems.
Nuts, Pulses and Grains (Almonds, Hazelnuts, Sunflower and Pumpkin Seeds)
Foods like almonds, hazelnuts, sunflower and pumpkin seeds make healthy, nutritious and tasty snacks. Rich with fibre and packed with Vitamin E, these 'super snacks' also contribute to healthy bowel movements and do wonders for your digestive system.
Water
With zero calories and fat, water is an excellent (not to mention one of the cheapest) way to prevent colon cancer. Your digestive system will benefit from drinking water as it pushes food down through the intestines. This, in return, flushes all the toxins out and you'll have a much healthier digestion.
As the saying goes – 'you can't have too much of a good thing', this also applies to colon cancer prevention food. You can't just eat one type of food, for example only fruits, and neglect the others. The best way is to keep yourself in check with a balanced diet consisting of a few servings of the food listed above. It will add wonders to your diet, help prevent colon cancer and benefit your health in the long run.
Types of Food to Avoid
Our typical days are fast-paced, hectic and stressful, which often results in us neglecting our diet, weight and health. We then resort to eating a lot of unhealthy food that could lead us to have colon cancer, and the types of food that should be avoided are as follows:
Red Meat (beef, lamb, pork)
Red Meat like beef, lamb and pork are high in saturated fats, which contribute to high cholesterol level build up in our blood system. These types of food are much harder to digest, disrupting the flow of our bowel movements.
Processed Meats (Sausages, Bacon)
Did you know that constantly eating a lot of processed food increases the risk of death due to colon cancer? Food like sausages and bacon are filled with additives and preservatives such as sugar, oil, salt and fat. They are not 100% pure meat, as they have gone through the processes of smoking, drying, canning, curing or salting.
White-flour Based Foods (White bread, white rice)
The milling process to make white bread and rice will destroy most of the fibre, vitamins and minerals in them. They contain plenty of carbohydrates that can increase blood sugar levels, making you gain weight, contract diabetes, and colon cancer. 
Sugary Drinks
We may be well aware of the health effects of sugary drinks, unfortunately, we also tend to crave them all the time. Frequent consumption of sugary drinks can lead to obesity and Type 2 diabetes, which also put us at higher risk of getting colon cancer.
Oily, Fried Food
Have you ever wondered why you always feel bloated and gassy after a greasy meal, like fried chicken or cheesy burger? It's because these foods are laden with fats, and these fatty foods are difficult to digest. They could stay in the stomach for a long time, which will also increase the risk of getting gas, a bloated stomach and painful acid reflux.  
Lifestyle Changes for Colon Cancer Prevention
Colon cancer prevention can be done through lifestyle and dietary changes, and it takes a lot of willpower and determination in the process. 
Changing Your Diet
You can start preventing colon cancer by changing your diet. Make a list of the types of food to take for colon cancer prevention and stick to it while you go on your weekly groceries shopping. Try to resist the temptation to stuff yourself with sugary treats or hamburgers that have zero nutrients and are filled with additives and preservatives. In addition, limit your alcohol intake to just one drink a day as frequent consumption of alcoholic beverages can also lead to colon cancer.
Alternate Ways of Cooking
Incorporate other approaches while preparing your food. It might be as simple as using less salt, less oil and put in more natural seasoning, but it's the little things that count (and can make a huge difference). Instead of deep-frying, you could boil, steam, grill or even air-fry when you cook. Check out some easy and simple healthy recipes that you can try to prevent colon and other cancers.
Get Active
30 – 45 minutes of physical activity daily could save your life, and prevent you from getting colon cancer. You can start by brisk walking, slow jogging and then move to running or cycling. Remember how you used to dance, skip or play hopscotch when you were younger? You can also include them in your activities.  Just get off the couch, and start moving, but remember to always consult the experts like doctors or professional trainers before you start any vigorous activities.
Stop Smoking
Smoking causes approximately 22% of cancer-related deaths globally. Your lifestyle change should include stopping smoking or even vaping. Get the support that you need and distract yourself from the habit of smoking by doing something else like reading a book or going for a run.
Get Regular Health Check-ups
It's important to keep your health in check by getting professional advice to ease your mind and ward off any possible illnesses or diseases. Early detection and screening often save lives, yours and your loved ones included. 
Changes are hard, but they can be done. Rope in your loved ones in making all the lifestyle and dietary changes too, as you can support and encourage each other in the process of preventing colon cancer. 
Care At Any Stage
Finding the right caregiver is an important and highly personal process. To help you with the caregiving process, Homage offers a zero-commitment consultation with its Care Advisors to better understand the care needs of your loved ones and offer some clarity on the services that Homage can provide.
Homage also offers care packages that can help you save up to 20% of the caregiving cost. Alternatively, you can consider a la carte service options to better suit your care needs.
For more information or to schedule a call, fill up this form.
Found this article helpful? Subscribe to us to get a weekly digest of the latest Homage happenings, caregiving tips and health guides.
Carey, E. (2014) 10 processed foods to avoid, Healthline.com. Available at: https://www.healthline.com/health/food-nutrition/processed-foods-to-avoid (Accessed: June 17, 2021).
CCCN (2017) Benefits of drinking water: Cancer fighting and more, Cccnevada.com. Available at: https://cccnevada.com/benefits-drinking-water-cancer-fighting/ (Accessed: June 17, 2021).
Dixon, S., MPH and RD (no date) Symptoms of Colon Cancer, Verywellhealth.com. Available at: https://www.verywellhealth.com/what-are-colon-cancer-symptoms-796826 (Accessed: June 17, 2021).
Hill, A., RD and LD (2020) 7 white foods — and what to eat instead, Healthline.com. Available at: https://www.healthline.com/nutrition/white-foods (Accessed: June 17, 2021).
Link, R., MS and RD (2017) 13 foods that could lower your risk of cancer, Healthline.com. Available at: https://www.healthline.com/nutrition/cancer-fighting-foods (Accessed: June 17, 2021).
Macrae, F. A. (2021) Colorectal cancer: Epidemiology, risk factors, and protective factors, Uptodate.com. Available at: https://www.uptodate.com/contents/colorectal-cancer-epidemiology-risk-factors-and-protective-factors (Accessed: June 17, 2021).
Aicr.org. Available at: https://www.aicr.org/cancer-prevention/recipes/ (Accessed: June 17, 2021).