Care where you are
Find out why Homage is the preferred way Malaysians are taking control of their health.
Get a Free Care Consult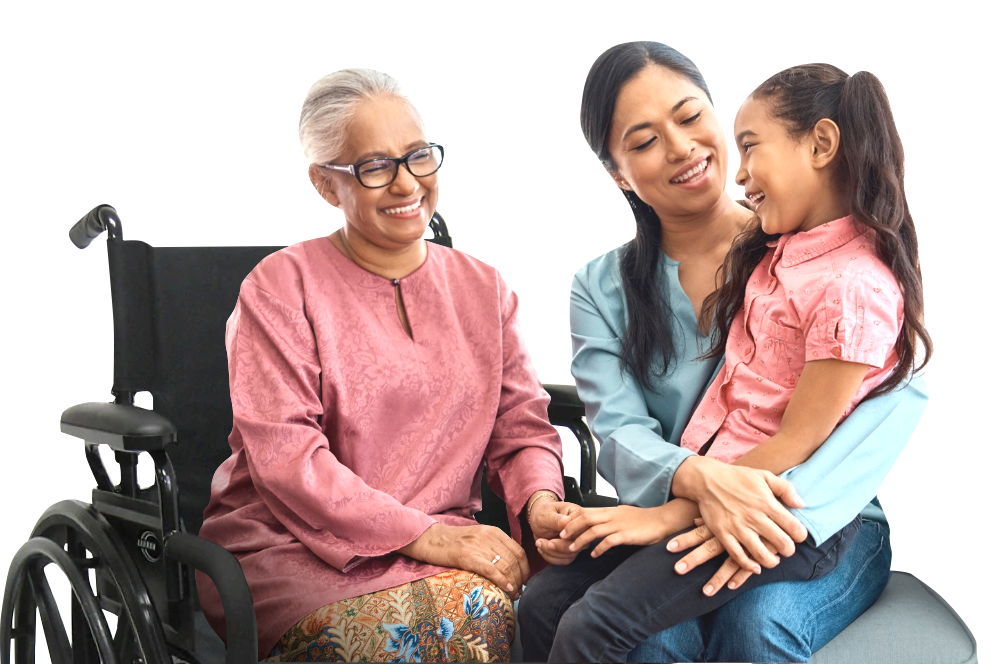 Largest pool of Care Professionals
Round-the-clock care options
4.8 stars rating mobile app
Get care at home, hospital or online
Our Services
Speak to a Care Advisor
Call us at 016 299 2188 or request a callback from our friendly Care Advisory team. Learn more about our range of services and find out how Homage Care Professionals can help.
Make a Care Plan together
We will work with you to develop a personalised Care Plan based on your loved one's health status, care requirements, and additional preferences.
Your personalised care begins
Together we will match you and your loved ones with an exceptional Care Professional. Stay up to date after every appointment with detailed reports on the Homage app.
Only the best care for you and your loved ones
Get a personalised care plan. Here's what we can help with.
How We Can Help
Respite Care for Caregiver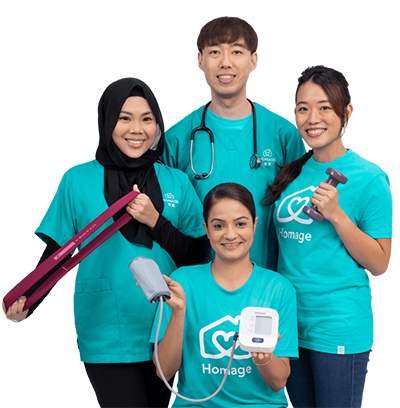 Largest Pool of Care Professionals
Care Professionals are thoroughly screened to ensure care quality
---
5
Onboarding
< 5% Selection Rate
Our App
Caring just got easier
With the Homage mobile app, request and manage care for you and your loved ones wherever, whenever. Whether you need therapy, home, nursing or medical care, help is just a few taps away.
My gratitude and appreciation
My 85-year-old mother, who underwent post-ventral incisional hernia surgery in January 2019 had CPs from Homage, all professionally trained, from leading Malaysian hospitals. The CPs nursed my mother with diligence, and compassion; providing invaluable tips on elderly caregiving to family members. My gratitude and appreciation to Team Homage.
Azwan Shahuddin
Positive experience
Our experience has been very positive. So far, we have used their Care Pros perhaps 10 times (for checking in on mum) and she has been nothing short of kind and supportive. The coordinator Bel has also been a great help since day one. I find the price to be reasonable. Love the reporting feature on their app. You could see what has been done during the visit. It's worth trying out.
Adelaine Yeo
Definitely one of the best!
I had positive experiences with Homage so far. They are flexible, affordable, and professional. The coordinator from Homage has been very helpful and accommodating to my request since day one. Caregivers assigned to take care of my (85 yo) grandmother are punctual, professionally trained and attentive. Hope they will continue to serve well.
Kamilah Barvin
Make Home Care Personal To Your Loved One
Get started with a free consultation today, and learn why thousands of Malaysians trust Homage to deliver the best care in their homes.
Get a Free Care Consult
Make Home Care Personal To Your Loved One
Learn why thousands of Malaysians trust Homage to deliver the best care.